Want to Join
Me?
Let's Paint!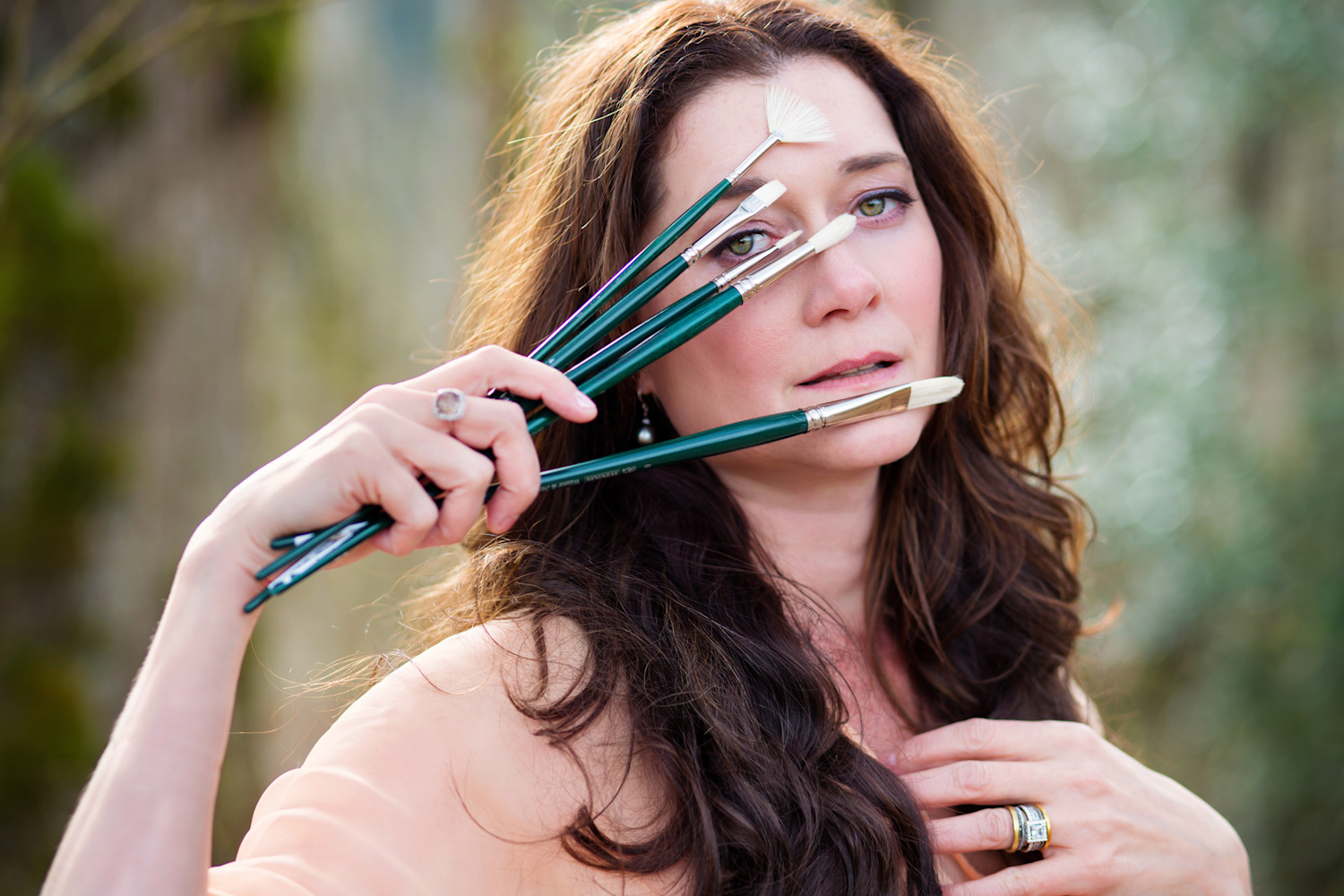 Join my favorite students and me ;
we will COMPLETE this stunning painting together.
No matter your skill level, I'll lead you moment by moment, step by step through this beautiful painting.
Remember 'Connect the Dots,' when we were kids?
We start there, then move to simple drawing.
Before you know it, your colors flow, ya loose track of time, I hold your hand the whole way giving supportive thoughts...
And in less time than a fine dining experience, you have created a stunning Cauldron Sky Painting.
You Can Do This! I PROMISE! xooxoxRobbi
"I've Got You. You've Got This. It's so EASY...
I feel SO excited to meet your Inner Artist.
It's my sheer joy to see you
Create. Then Smile. And Repeat. XoRo"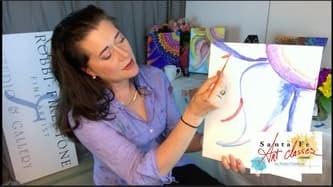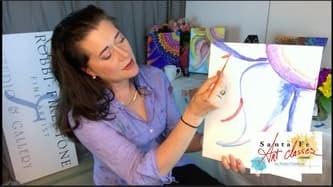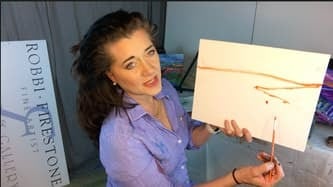 "How to Paint a Cauldron Sky"
with Artist Robbi Firestone
This time offers the rare opportunity for you to to shape your own, creative journey to self discovery.
So, it's time to dive into painting!
This painting class is:
* Relaxing
* Creates Beauty,
* Inspires Wellness
* Is Just, Plain FUN!
Within my incredible community of artists,
you can explore as deep and wide as you like...
Just like in studio,
this VIP class will be a 2 hour session.

Only $7 bucks! (Crazy, right?)
I cannot wait to paint with you again!
xo Robbi
Check out these gorgeous student paintings & testimonials from our last "Aspen Trees" LIVE class: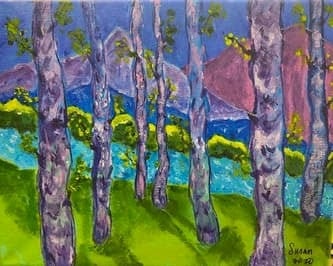 "Hi Robbi, here's my painting. Thanks so much for sharing techniques and tips, and the fun painting class!"
Louise Weingard, Scottsdale AZ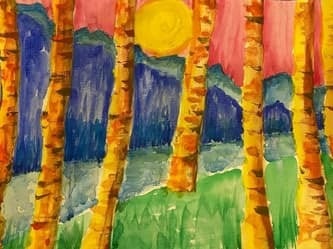 Excited to join Robbi Firestone and Artists for her amazing enlightening ...painting class online yesterday. This is my first watercolor attempt. It's called 'Aspen Trees' So much fun! Looking forward to next class. Highly recommended for some peace, painting techniques, art history, meditation, love and sanity. Thank you Robbi 🌺❤️🤗"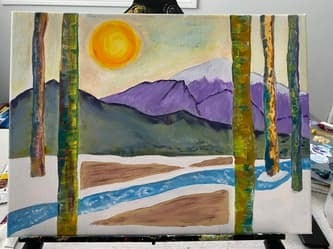 "Hi Robbi! Today's painting.
The others are from your recorded classes. Thank you so much. It was wonderful to feel the creativity again.
I'm inspired to renew my quest
to paint daily!"
Sandy Thurman, Redlands CA
What You Will Learn From This Presentation:
Secret #:1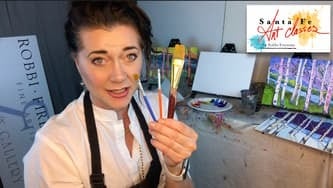 Simple Supplies
Secret #:2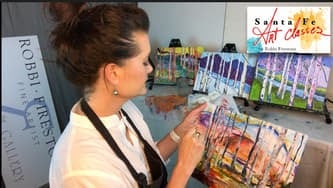 Easy Creative tips
Secret #:3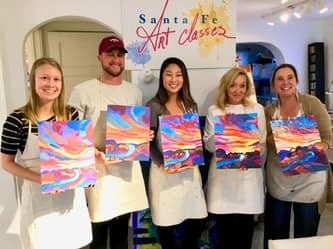 Finish a frame-worthy Painting
Minute by minute, you'll follow to finish your beautiful, completely unique painting

Here is what you get:
✓ 2 hour online class via ZOOM
✓ Supply List so you will be ready for the class
"I Can't Believe I Went From Not Being Able To Draw A Stick Figure To Creating This Gorgeous Painting At Home."
🎨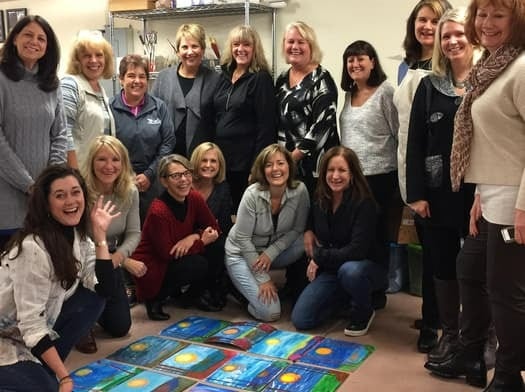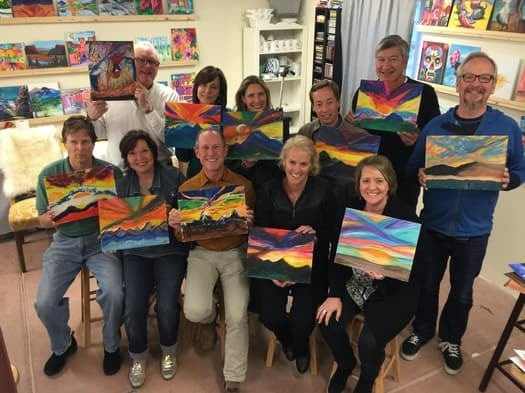 Sign up now as class will be limited to only 30, VIP students;

first come, first served, so we can all anticipate an intimate painting process, just like in studio!
...Robbi draws out & inspires your Inner Artist; we dubbed her "The Art Whisperer..."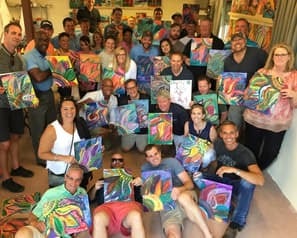 "We I had the perfect painting class with Robbi; we decided to call her, The Art Whisperer." She draws out and inspires your inner artist. We were all so glad we found Santa Fe Art Classes and were thrilled with the experience. It was the highlight of our Santa Fe trip, and I will for sure be back to do it again. It is the perfect way to spend time connecting and laughing with friends and co-workers. Definitely don't miss out on enjoying a day painting with Robbi!
Elise, 45 - Tampa, FL
... One of the Best Art Classes I've Taken in my Life."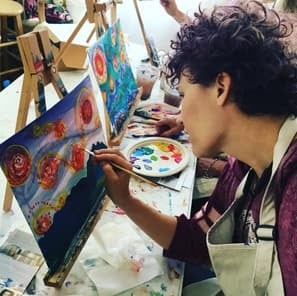 "The whole SFAC experience was magical. Robbi is an amazing woman. You know later in the week I had a 1:1 class with another woman - and it was - well... I had a different experience and not worth $200 - she went over things very basically. There wasn't the spark... but Robbi her whole aura - positive and fun, and non judgmental and creative, it was just fun... she is a gals, gals a cool cool woman. She is one of the most dynamic women I've ever met. And her class is one of the best art classes I've taken in my life."
Louise, 55 - Dallas, TX
"Robbi's was the first painting class I ever took...Now I have my first residency in Art! I'm pinching myself!"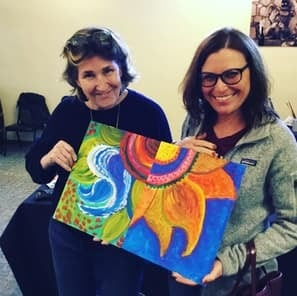 "Following the first painting class I ever took at SFAC it peaked my interest in painting. I went home and joined the Desert Art Center in Palm Springs, I'm retired. It peaked my interest and it's been 3 years now. And guess what! I have my first residency in art this summer in Canada. I just took the SFAC class for fun and look where it led, I am pinching myself people will come and watch ME paint."
Sallie, 65 - Prescott, AZ